Bow Windows Replacement in Sugarland TX
The Best replacement windows in Sugarland
Limited Time Offer: Buy 1 Window, Get 1 Window at 50% OFF
Bow windows, with their sweeping curves and elegant design, add a touch of sophistication to any home. Our team at Window Replacement Sugarland is dedicated to crafting these stunning windows, which extend outward from your home, creating a spacious and inviting look.
These windows bring numerous benefits: they enhance natural light, offer expansive views of the outdoors, and create additional space in any room. Their unique design allows for a variety of uses, from a cozy reading nook to extra shelf space. Additionally, their curved structure adds an architectural element to your home, boosting curb appeal.
In terms of size and dimensions, bow windows from our selection can be tailored to meet your specific needs. Whether you're looking for a large, dramatic feature or a more subtle addition to your space, our team can customize these windows to fit perfectly within your home's existing structure.
Caring for your new bow windows is straightforward. Regular cleaning with non-abrasive cleaners, coupled with periodic checks of the seals and hardware, will ensure they remain in pristine condition, preserving their beauty and functionality for years to come.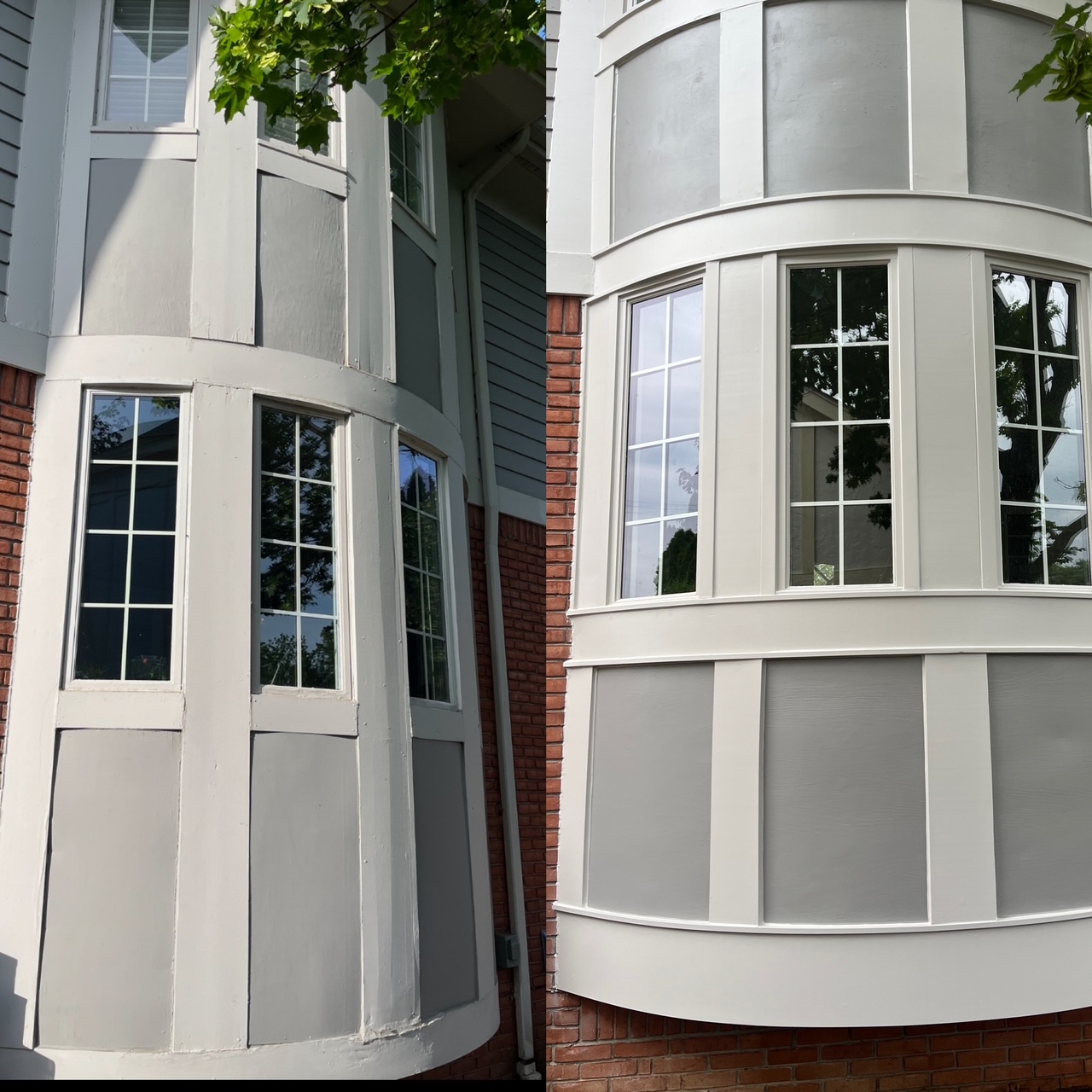 Elevate Your Home's Efficiency with Bow Window Innovations from Window Replacement Sugarland
In the heart of Sugarland, our team specializes in elevating homes with the latest in energy-efficient bow windows. Each design is crafted not only for aesthetic appeal but also for superior energy performance, ensuring your comfort in every season.
Low-E Glass in Bow Windows
Low-E glass is a staple in our bow window offerings. This technology minimizes heat transfer, keeping your home cooler in summer and warmer in winter, leading to reduced energy bills and enhanced living comfort.
Argon Gas Filled Bow Windows
Our argon gas-filled bow windows are a testament to modern window technology. This invisible and odorless gas between panes significantly improves thermal efficiency, making your home's energy use more efficient.
Triple pane bow windows from our collection are the pinnacle of energy efficiency. With an extra layer of glass, these windows offer superior insulation, making them ideal for Sugarland's diverse climate.
Double pane bow windows strike a balance between cost and efficiency. They provide excellent thermal insulation, making them a popular choice for homeowners looking to upgrade their windows without breaking the bank.
Energy Star Rated Bow Windows
Our Energy Star rated bow windows meet strict energy efficiency guidelines. Choosing these windows means you're selecting a product recognized for its superior performance in energy savings.
UV Protection in Bow Windows
Protect your interiors with our UV-protected bow windows. They not only safeguard your furnishings from sun damage but also reduce glare, enhancing your indoor comfort.
Thermal Insulation of Bow Windows
The thermal insulation capabilities of our bow windows are unmatched. They are designed to keep external temperatures at bay, ensuring your home remains a haven of comfort regardless of the weather outside.
Reflective Coating on Bow Windows
The reflective coating on our bow windows is a game-changer. It reflects heat and UV rays, maintaining a comfortable indoor temperature and contributing to significant energy savings.
At Window Replacement Sugarland, we blend the elegance of bow windows with advanced energy-efficient technologies. By choosing our windows, you're investing in a home that's not only beautiful but also sustainable and comfortable.
Frequently Asked Questions About Our Bow Window Replacement in Sugarland, TX
Choosing the right windows for your home is an important decision, and it's natural to have questions. We've compiled the most common inquiries about our bow window replacement services to help guide your choice.